PCEngine and TurboGrafx16
OFFLINE meeting 2000
in Tokyo Japan
last update: 23 Sep 2000.
Thanks to Mattew Ross and so many gamefriends for translating supportment.
Thanks to ATR for shooting some nice screen pics: Legion, Photo-boy and Kung-fu.
---
If you want to view much more pics, click here.
Wartaru Suzuki, the host of this meeting, shows many piece of photograph on his website.

---
26 August 2000 :
I can't forget that day.
It was one of the most fantastic days, to all attendants of this offline meeting.
---
At 12 o'clock, all attendants reached O-imach station.
Most attendants held large bags which were full of rare consoles and items.
Some items are really "priceless" and hard to find even on e-Bay or YahooAuctionJapan.
We moved to the secret room for this meeting.
This room had a large monitor and VCR.
---
Before starting this meeting, we had to showcase many rare items.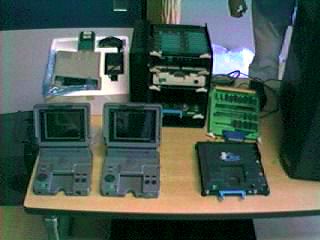 These items are PC engine modem, Hu-7 and special development tool, LTs and Hu-7D.
After shooting this photo, LTs were removed from the showboard and replaced with Turbografx Spanish ver.
---
George Palamara showed many special items.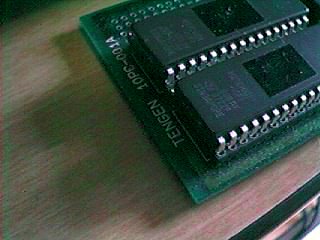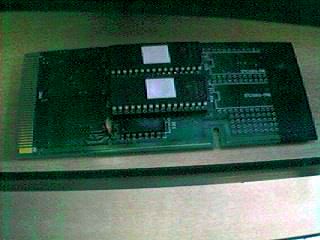 Special developer's ROM made by Tengen.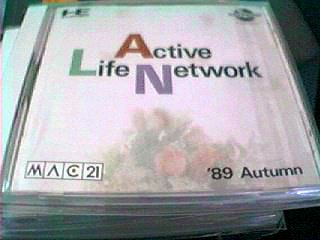 One of the most rare softs: "Active life network".
This CDRom was never sold in stores; only made for a marriage arrangement company.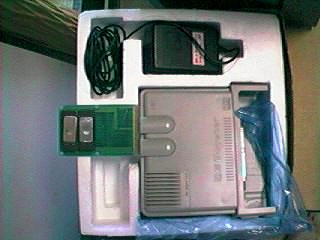 PC engine modem is a really good one.
---
Another guy brought this cool console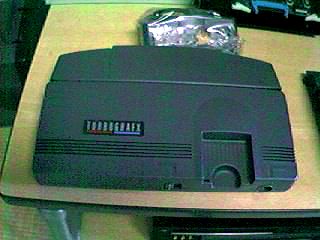 TurboGrafx16 Spanish version
---
First we started this offline meeting with these 3 VTR .
All about PC Engine.

PCengine CM video clips.
Tenchi Muyou Promotion video.
These 3 videos were really good for starting this meeting.
We saw many ad films for PCengine, PCengine Duo and so on.
---
After checking these videos, it was now about 2:00 PM.
We played Magical Chase (JPN ver.) for the first game of this meeting.
One of the best PC engine shooters.
---
And no sooner after finishing Magical Chase, we checked the fantastic opening movie of Y's Book 1&2. It's really great wizard works!
After these 2 good games, we started to set one cursed CDRom in the Duo-R.
(By the way, this Duo-R was priced at 500yen by HARD-OFF).
Legion, one of the w*o*r*s*t shooters came up on the screen.
The background music is not played from the CD but from the PSG-like sound unit of PCengine,...Really cheap sound,
And the system is unbelievable.
Some attendants tried but most of them failed in under 10 seconds.
I had tried to beat this cursed shooter, but I couldn't make this work.
I hope someone will beat this game before the end of 21st century.
---
After being exhausted by Legion, we checked Street fighter 2' for testing the Avenue Pad 6.
And soon T.k Tried to beat Shubibinman2 (Japanese Shockman).
During this time, other attendants checked each other's rare items.
Back issues of PC engine mags, rare leaflets, posters and so on.
Finally T.k finished this game and we saw an endrole.
---
For a brief rest time, we viewed Afterburner ll.
And after this game ... one of the main softs for this meeting was uncovered.
The monitor showed the opening visual of Space Fantasy Zone(unreleased, promotional ver.).
This cute but not easy game plays pretty nice music; arange versions of "Space Harrier" and "Fantasy Zone".
The boss is a 3D version of Fantasy Zone, but the attack is the same as Space Harrier's one.
The shop system is like as Fantasy Zone or Super Fantasy Zone (MegaDrive).
We used a cheat code (Skip rounds) and saw the end of this game.
---
After this great game, "Bazar de gozar no Game de gozar" was demonstrated.
"Bazar de gozar" is a cute and funny monkey , from NEC ads.
This time, he showed really funny acts in this game .
By the way, this game was made by Gamefreak: the softhouse which made "Pokemon".
---
After this game, attendants were starting VS games.
Both Motteke Tamago (naxat released this game for Super PCengineFan ) and Bomberman are some of the best VS games.
We played them with passion to win.
Someone played one of the most well known cult-games: Gekisha-Boy on PCengine LT.
---
After hard VS playings, we tried one most well known "giant characters game" of PC engine.
"The Kung-Fu" is well known by its giant characters , as big as half of its screen.
No sooner after playing this game, we were reminded of the good early days of PC engine .
In Nov. 1988, we were really surprised by these huge characters and some of us decided to buy PCengine.
---
After watching demo pictures of "Space Cruiser Yamato" and "DraculaX", we last watched a videotape from spaceship
:The amazing Laser Active trial-video.
This videotape is one of the most interesting, gorgeous, and funny of all Videogame videos.
All members of this meeting kept bursting into laughter for 45 minutes.
---
mailtome:CQF02202@nifty.ne.jp